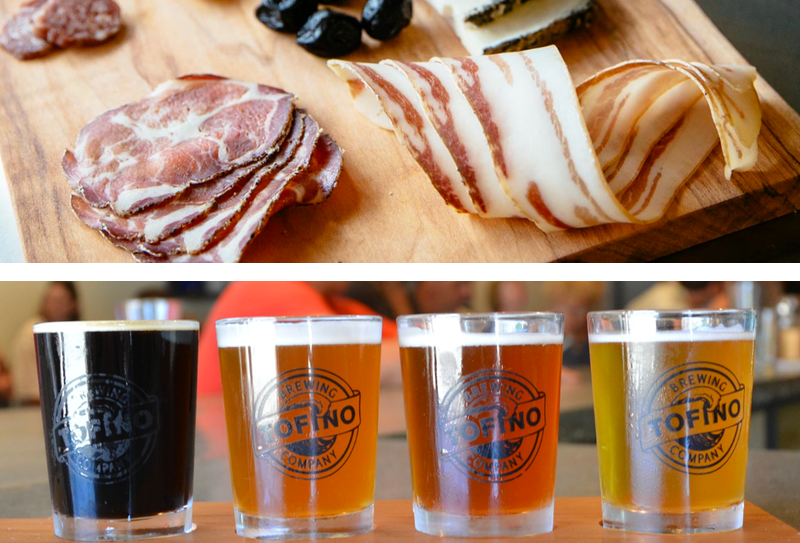 We're so lucky that so many cool local businesses have sprung up in Tofino over the years and two of our favourites happen to be just across the road from each other on Industrial Way, a few blocks away from us.
Picnic Charcuterie, run by Tina Windsor, is a hidden gem for meat lovers – Tina uses her experience in livestock husbandry and charcuterie and cheese production to smoke, cure and cook all of the meat for sale. Tina also makes kick-ass preserves from local Island ingredients and works with local farms to source all of her produce. Island-raised pork from Sloping Hill Farm and Oak Bay farm is used in sausages and chorizo and Tina uses Vancouver Island Salt in the curing process. Forager Alexander McNaughton helps Tina by finding wild food that has inspired delights such as pickled sea asparagus and wild Nootka rose jelly to accompany the meats. (By the way – 'picnic' comes from the French term for an al fresco meal with family and also refers to the picnic cut of high-fat pork that is usually used in sausage making).
Tofino Brewing Co is an essential stop on any tour of Tofino. Visit the brewery to try their small batch craft beer – Tuff Session Ale is the ideal tipple after a day on the beach and we feature their ales and seasonal beers on tap behind the bar at Wolf. Brewed using Pacific Northwest hops and local ingredients like kelp and spruce tips, the beers are a true taste of Tofino.

Visit them both in Industrial Way, have a taste of them at Wolf in the Fog or visit online at http://tofinobrewingco.com/ and http://www.picniccharcuterie.com/
Photo courtesy: Picnic Charcuterie – Jeremy Koreski / Tofino Brewing Co. – Mark McKeough