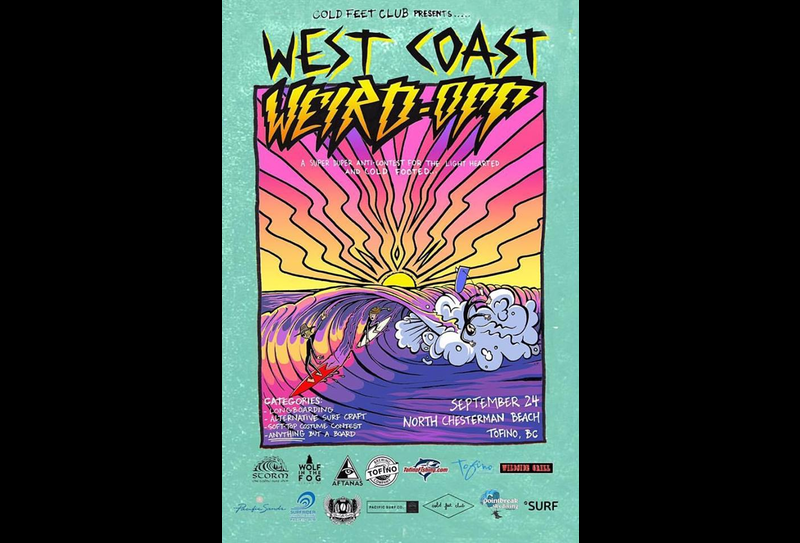 We're stoked to be involved in an exciting new surfing event that's coming to Tofino on Saturday, September 24. Cold Feet Club presents The West Coast Weird Off, which comes to North Chesterman Beach 9am-6pm for a celebration of the true essence of surfing: fun and expression.
Traditional contests focus on technical and competitive aspects but the West Coast Weird Off celebrates style, creativity and comradery amongst surfers. Run by Cold Feet Club, a Tofino surf apparel brand that champions alternative surf crafts, and the Pacific Rim Surfrider Chapter clean-up community, the event will be an eco-conscious affair that brings the weird and wonderful side of surfing to life.
Competition categories include, Longboarding, Alternative Surf Craft (Single fins, Fishes, Simmons, Alaia boards, Mid-lengths), Soft-tops with costumes and Anything but a board (think inflatables, cafeteria trays, hand planes, and any homemade craft).
Sign-up is $30 for one category or $40 for all four – register at Storm Surf Shop in Tofino or send Cold Feet Club a message on Facebook if you're not in Tofino before the event. We'll be sponsoring prizes and there are also some rad rewards on offer from skydiving and wetsuits to fishing charters, board repairs and photo shoots! We look forward to seeing you there … just bring anything but a board!
Check out Cold Feet Club's Facebook page for more information.