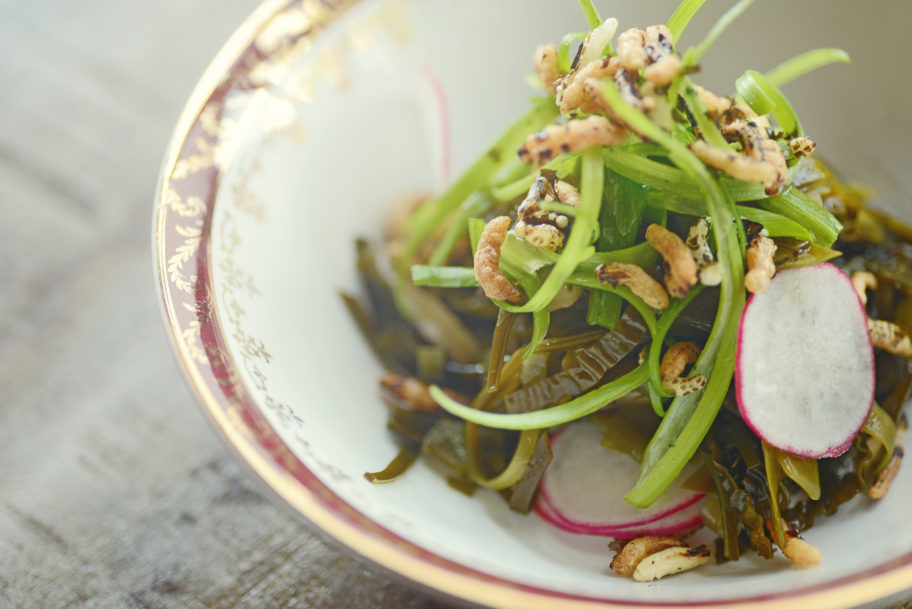 The Bamfield Seaweed Salad is a Wolf in the Fog classic. It's been on our menu since day one. Seaweed is a natural, nutritious and sustainable food source and we're lucky here in BC because we're surrounded by it. Our seaweed is clean, fresh and infused with the minerality and authentic saltiness of the sea.
Bamfield is a small town on the west coast of Vancouver Island: not only are its long stretches of rugged coastline breathtaking to look at, they're also a goldmine for the best kelp in the province. Louis Druehl, an expert in kelp biology, operates Canadian Kelp Resources with his wife Rae Hopkins – and they source the seaweed that we use in the Wolf kitchen. The duo harvest the kelp straight from the sea, then cut it and let it air dry in a converted barn – it's as simple as that. There's nothing added to it; no preservatives or other unmentionables you might find in commercial sources. The simplicity and authenticity are what makes this dish a West Coast staple that we'll always serve.
This salad can be eaten as an appetizer on its own, or as a side with albacore tuna, halibut or salmon.
Ingredients (serves four as an appetizer)
50g dried seaweed (macro and bull kelp)
500 ml chopped shiitake mushrooms (stems removed)
200 ml canola oil
250 ml rice wine vinegar
5 cloves garlic (minced)
1 thumb sized piece of ginger (minced)
1 tablespoon sambal
1 teaspoon sesame oil
1 bunch of scallions (finely chopped)
250 ml daikon radish (diced)
250 ml puffed wild rice
Method
Rehydrate the dried seaweed by soaking in cold water for about 20 minutes. Julienne the seaweed and blanch in boiling water for two minutes. Rinse in cold water thoroughly and hang in a strainer to dry. 
In a sauté pan, over a medium heat, add canola oil, garlic and ginger and sauté until golden. Add mushrooms and vinegar and simmer until cooked. Season with sambal and sesame oil. Cool and combine with seaweed and scallions. Garnish with diced daikon radish and puffed wild rice.