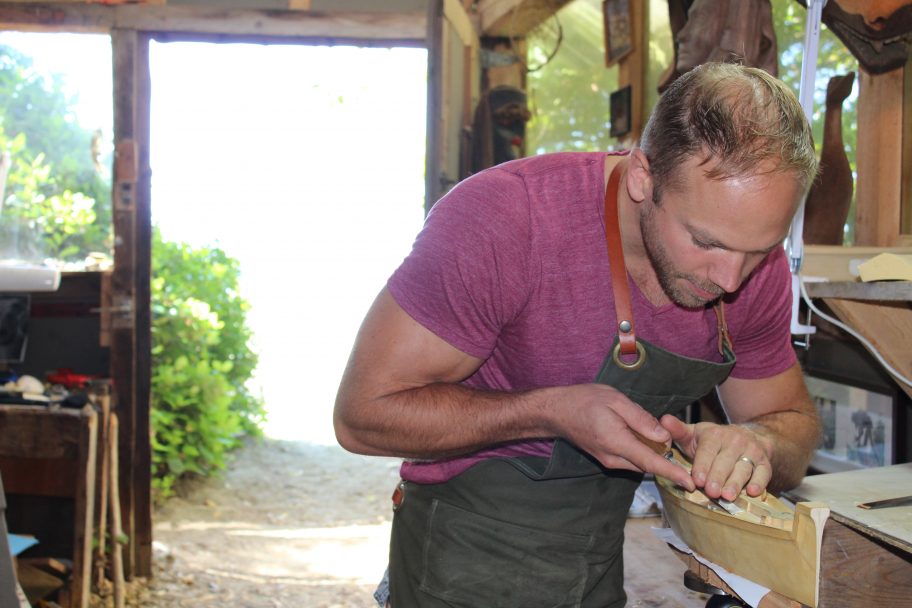 If you go down to the woods today…. you might find master woodcarver Christen Dokk Smith inside the Carving Shed on Chesterman Beach. Tucked away amongst the forest and the beach in the wooden cabin, Christen combines classical carving techniques with Viking and First Nations influences to create beautiful works of art.
We're lucky enough to have some of his original work in our Den (check out the wooden wolf heads on the beer taps) and up above our patio you'll find his contemporary forest piece.
Born in Oslo in Norway, Christen never intended to be a wood carver and had a successful career in the military before a meeting with Bjarte Aarseth changed his life. Bjarte, a master carver, invited Christen to his studio at the Viking Ship Museum in Oslo. "I never thought in my wildest dreams I'd become a wood carver", says Christen. " But as soon as I stepped into the doors of Bjarte's shop I was wowed and got the feeling of coming home. That this is what I'm meant to do."
Christen's apprenticeship lasted four years and covered the classical European way of carving, focusing on Viking, Medieval, Baroque, Rococo techniques and involved making replicas of ships and intricate carvings that could be loaned to international museums.
Christen had visited Tofino on vacation to attend a meditation workshop, where he met and fell in love with his wife. In 2012 he moved to Tofino to be with her. " After I moved over here I started learning from First Nations carvers," says Christen. "After a while I didn't want to just replicate their work – I wanted to give it my touch, so I started combining First Nation and Viking carving. Now I'm working on masks, a new challenge, and I combine the ancestor masks with carvings from my heritage."
Christen's artistic process involves coming up with an idea and then finding the perfect piece of wood to carve – he uses Island wood and most of it comes from fallen alder trees from the local area. His latest project has been a huge sculpture of a four-year-old boy and a tree that is displayed in the Robert Bateman Centre in Victoria. It's part of the One Tree Project, which included many Island artists who were asked to use parts of a giant protected maple that had to be cut down in Duncan. Christen's piece shows the boy touching the tree and realizing his connection to nature – a poignant reflection of Christen's own journey into woodcarving.
To see more of Christen's work visit his website: http://www.christendokksmith.com/about-me.html