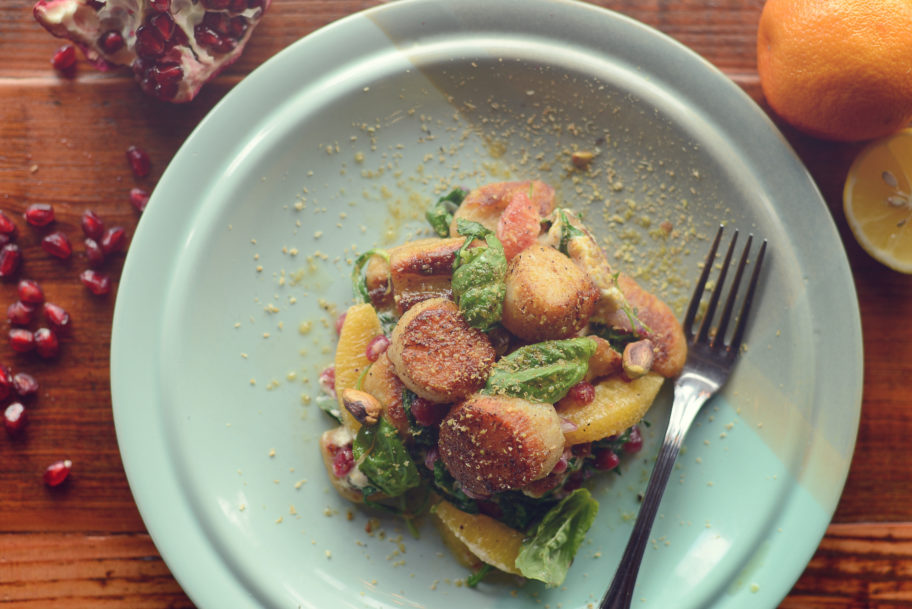 With the onset of fall, we like to show some love to all the culinary treasures that come to life during the chillier season. As part of our boat-to-table, forest-to-fork approach to cuisine, it's important to us to honour in-season ingredients and luckily we have an abundance of them right at our fingertips.
Scallops are one of our favourite products to work with in fall. The ones you'll find in all our signature scallop dishes are sourced from Quadra Island through the Out Landish Shellfish Guild, a congregation of eight sustainable, family-owned shellfish farming operations. These experts know the coastal waters inside and out and that means we always get the most fresh and flavourful scallops out there, the moment they come into season. When you're working with ingredients of this calibre, they hardly need any cooking at all. Here's a recipe to try at home:
West Coast Scallops and Pork with Fall Vegetables and Greens (serves 4)
Ingredients
8 scallops
8 strips of fatty bacon or guanciale
Roasted fall vegetables (carrots, onion, parsnip, celeriac)
1/2 bulb celeriac (julienne, raw)
Truffle dressing (1 part sherry vinegar, Dijon mustard and honey to 2 parts canola oil. 
Truffle oil to taste, shallots)
Mâché lettuce
Salt and pepper
Garnish: fried parsnips, puffed wild rice
Method
Render bacon in a pan over medium heat. Remove and increase heat to max. Sear scallops on one side until caramelized. Warm roasted vegetables and toss with celeriac julienne and dressing. Season Plate with vegetables and celeriac, slice scallops and plate with bacon, and top with mâché. Optional garnish: puffed wild rice and parsnip chips.