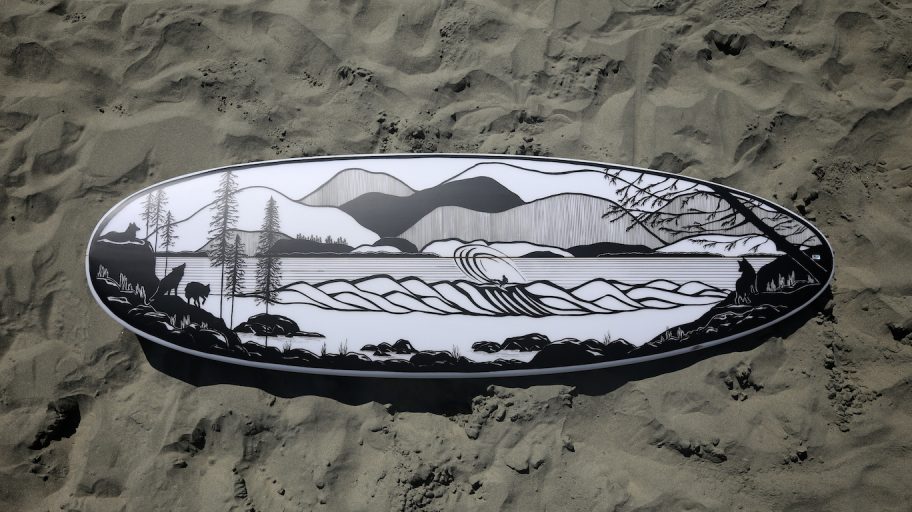 Talented Tara first came to Tofino on vacation in 2013, taking a break from her job as a kindergarten teacher; in 2015 she took a leave of absence and moved here permanently to join the Wolf Pack.
Growing up in a small town in Southern Ontario, Tara began drawing with her dad – even though he wasn't particularly artistic, he encouraged her to draw cartoon characters to illustrate her stories and she soon became convinced that she would be a cartoonist when she grew up. There was just one problem: "I wasn't very funny".
Tara went to film school instead and then decided to go into teaching, where her artistic skills came in handy to help teach the kids letters and numbers using cartoon characters that she had created. It was whilst on holiday on her own in Tofino that she discovered her love of drawing. Tara stayed at Long Beach Lodge and would sit quietly on the beach and sketch in her drawing pad. Staff from the lodge befriended her and started to ask her to draw cartoons for them. By the time she returned for a second holiday, she spent most of her vacation taking drawing requests.
It was during one vacation that she first discovered the black and white abstract style that can be seen on the Boardwalk surfboard outside Wolf in the Fog.  Tara was sitting on the beach drawing cartoons when her surf photographer Marcos Palladino asked her what she was doing. " I was doing a drawing challenge but didn't like the topics, so Marcus said we could make better ones, so that night we were walking on the beach making up ridiculous things to draw." Marcus challenged Tara to draw one of his photographs and it was during this challenge that she moved away from cartoons into a new style of monochromatic abstract art. "It's cool because if I was back home I wouldn't be doing that at all," says Tara. "But being out here I got the inspiration."
Tara found the Tofino community to be very supportive of her art and after she drew the picture of Marcus's photo he encouraged her to draw on his surfboard. Jorge from Wolf in the Fog saw Tara's artwork and asked her if she'd like to take part in the Boardwalk and decorate a surfboard to hang outside the restaurant.
Creating the Waterspider and The Wolfpack drawing was a slow process for Tara, who also works at Wolf as a host. The board features a Tofino scene with surfer Michael Darling (who has the nickname Waterspider thanks to his long legs), inspired by one of Marcus's surf photographs, and a wolf element as an homage to the restaurant. Tara drew the outline in pencil and then used special Japanese Uni-Posca paint markers to fill in the picture. "Drawing it with pencil took an hour but actually doing it was maybe a couple of weeks," she explains. "I just did a little bit at time then two solid days working at it but your arm gets tired too because you're going back over it a lot. There's a lot of line work, and you want it to be clean and specific."
"Most of the time involved me sitting back and thinking about decisions I was going to make because once I put the marker on there I can't erase it: it's done," says Tara, who usually draws with a marker directly onto paper and throws it away if she messes up. "This one I couldn't really crumple up! A lot of the process was me making decisions in my head before I put the marker down."
Tara's final design, which is on a sealed board made by local surfboard maker Stefan Aftanas, can be seen outside Wolf in the Fog and is part of the art trail of 26 surfboards around Tofino. This spring they will be auctioned off to raise funds for the arts in Tofino. Tara's artwork can be found for sale at Tofino's Satutrday Market or you can visit her Instagram at https://www.instagram.com/tbossart/.