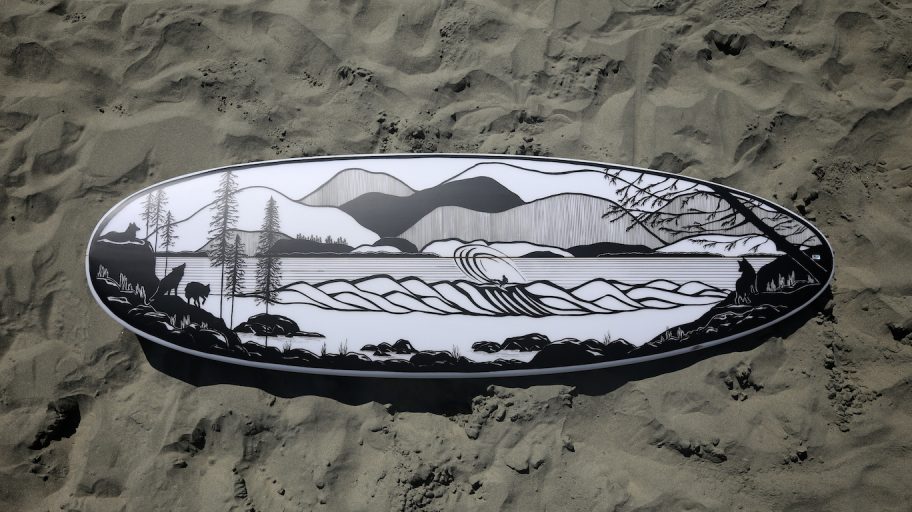 Surf's up (on the wall) this summer with Tofino Boardwalk
We're used to seeing surfboards around here – from the broken pieces of pro boards used in Cher's flower installation in our dining room, to the boards that visitors rent from Westside Surf downstairs and the ones we take out surfing every day.
Tofino Arts Council has just added to the surf scene with their cool new project, Tofino Boardwalk, which has taken 18 months to create and features 20 unique surfboards decorated by local artists.
We're super stoked to be involved and have a surfboard placed outside Wolf in the Fog. Waterspider & The Wolfpack is an awesome design by local artist Tara Baas, created using a Posca Pen on a 5'10' Aftanas Stubh board (made right here in Tofino by Stefan Aftanas!). Tara is a self-taught artist living in Tofino and she specializes in comic-style black and white style drawings and images of local surfers. You can check out more of her work on Instagram @TBossArt or buy pieces at Pacific Surf Co., Merge, and Saturday's Tofino Market.
Grab a copy of Tofino Time between now and October to find a map of the Tofino Boardwalk, then check out the 20 surfboards around the town – the project will raise funds for furthering the arts in Tofino when the boards are auctioned off at the Tofino Boardwalk Gala in spring 2017.
Ten per cent  of proceeds will go towards the artists' commissions and the rest will be used towards workshops, art shows and events for the whole community. We're proud to be a sponsor alongside other local art-lovers and organizations such as BC Arts Council and the District of Tofino and Tourism Tofino.
Happy surfing!