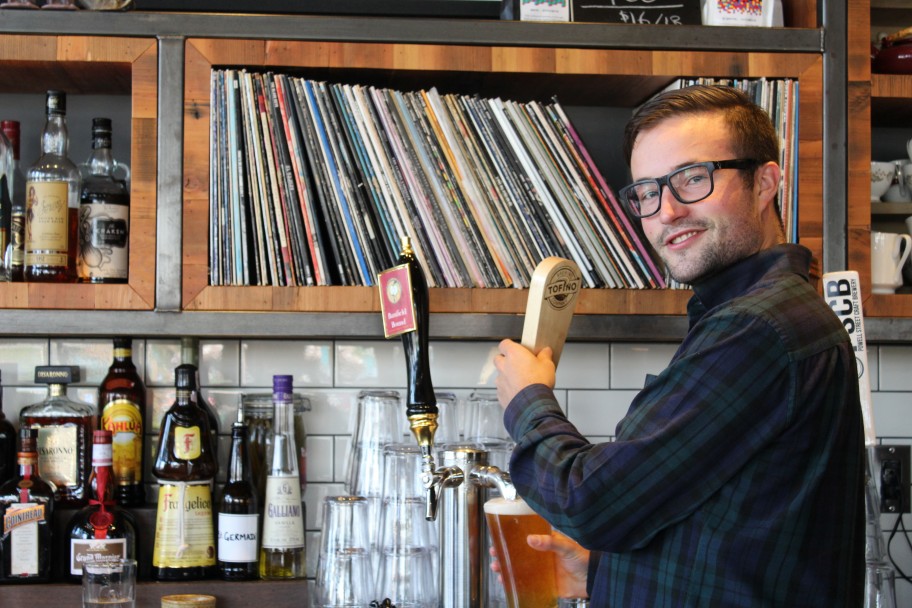 Have you been to the Wolf Den yet? Tucked underneath our main restaurant, the Den started life as a deli/sandwich shop idea but we switched it up last year to give it more of a bar focus and we brought in Colin Cameron to oversee operations in the Den.
Colin comes from Banff and first came to Tofino as part of a co-op during his course in Hospitality Management at Camosun College in Victoria. "I like to stick to the beautiful spots," says Colin. "My goal is to wake up in the morning to a nice view." He met bar manager Hailey slinging cocktails during his co-op in Tofino and, after heading home to Alberta, Colin got the calling to come back to join the Wolf pack.
Now the Den is a fast-paced restaurant in its own right and Colin has been working to 'bring the vibe up huge' by making sure that the whole cocktail menu is available downstairs any time of day in case people want to enjoy some day drinking out on our patio. One of his favourite parts of the Den is the vinyl collection. "It's becoming quite impressive," Colin says. "There's a couple of really good places to buy vinyl in Nanaimo and I've picked up some essentials: CCR, Jimmy Buffett, Method Man, Dr. John and the Eagles. It's been fun building up the collection."
Our Den is also the place to head to try the best Island beverages – our Wolf Blend from Tofino Tea Company is a perfumey mix of breakfast tea with jasmine and vanilla and our coffee comes from Drumroaster Coffee in Duncan. "It's super good," says Colin. 'They are the first coffee roaster on the Island. We use the espresso blends for our coffees – it's good for coffee nerds. We can't go too geeky out here but we want to give those guys who come out from Vancouver the chance to have a nice cup of coffee here."
Thanks to his time in Victoria, Colin is a huge craft beer fan and is looking forward to focusing on the tap program in the Den by introducing guest brewers. We've always got beer from our local friends Tofino Brewing Co on tap and we also feature around 10 beers from the Pacific Northwest. Our changing selection often includes local Island brewers such as Phillips Beer, Hoyne Brewing Co and Driftwood Brewing.
In summer the Den offers the same experience as upstairs but in winter we put movie nights and other fun events. "We've got our own thing going on down here," says Colin. "The Den has its own identity – we have a crowd of locals who love coming here for the music and atmosphere and that's really important to us."
Come and visit us in the Den – we're the louder more casual counterpart to the restaurant upstairs and we're open early for pastries, then brunch/lunch, happy hour and dinner – check out our website for opening hours! https://wolfinthefog.com/contact/