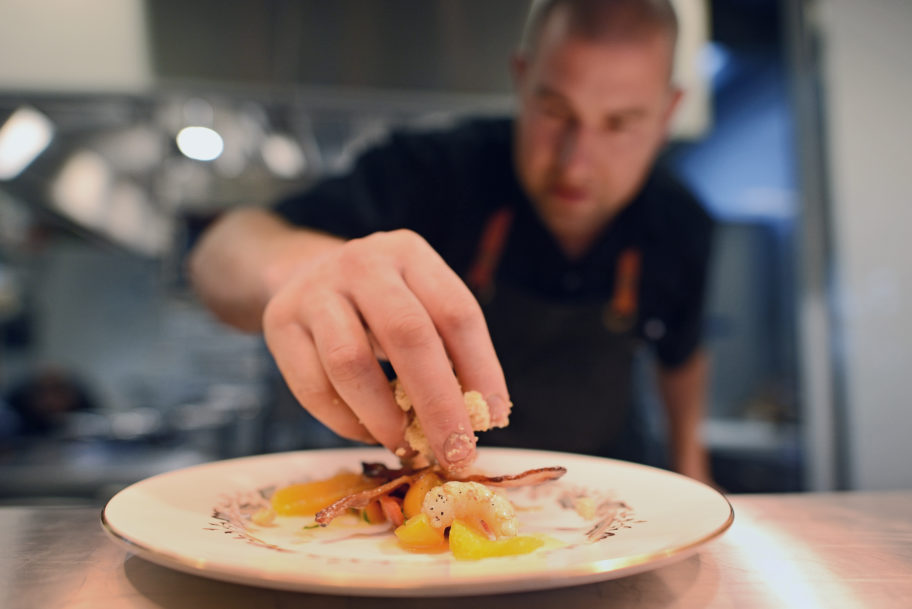 After a short breather, we're ready to roll this season with refreshed menus across the board. "We have quite a few new cocktails on our menu this season and The Te-Killa Bees is one I'm particularly excited about" says Bar Manager, Hailey Pasemko. "It's made with Espolon Blanco tequila, Krupnic (a spiced honey liqueur made by Wayward Distillation House in Comox), vermouth and Meyer lemon, making it the perfect combination of sweet and tangy."
Another new addition to the menu, The Wreck Dive, is made with mezcal, house-made nasturtium aperitif, house salmonberry bitters, ginger, honey, grapefruit and lime, for a perfectly refreshing, fruity and lightly smokey palate. Incorporating local ingredients has always been a huge part of our cocktail program here at Wolf. That's why this month, we'll be launching a "local classics" section, offering all your favourite familiar cocktails made with BC spirits and liqueurs exclusively. It's our way of keeping it classic and close to home.
Designed to share with friends, family and loved ones, highlights from our refreshed dinner menu include the fresh, West Coast Pacific Octopus and the Chili Squid and Pork Jowl topped with green papaya, cucumber, thai basil and coconut. Larger share plates include the rich Beef Bavette Skewers served with quinoa pancakes, sour cream, salsa criollo and cilantro or Bone Marrow and Crab with leek parsley, tarragon and baguette. For a taste of Tofino's best, try the Grilled Sooke Trout with cedar butter, potatoes, onion, sunchoke, clams and bacon or the Roasted Sablefish with toasted grains, miso caramel, black garlic, daikon and yuzu.
Perfect for enjoying alone or sharing, each dish is carefully curated with a unique blend of flavours to bring out the natural freshness of our ingredients. When it comes to local seafood to foraged vegetables we're lucky to have some of the best here in Tofino. Every dish we make is a toast to this breathtakingly beautiful, rugged coastline and everything it has to offer. For us, dinner is a family affair so we hope you enjoy each of these complex and provocative dishes just as much as we do.